Happy Summer, Lawrence School students!
I'll be looking forward to hearing about your summer adventures!
Brookline Summer reading lists 2020
Don't forget: Lawrence Library has ebooks and audiobooks that are available all summer!
Need encouragement to read more diverse titles this summer?
Book suggestions
Younger readers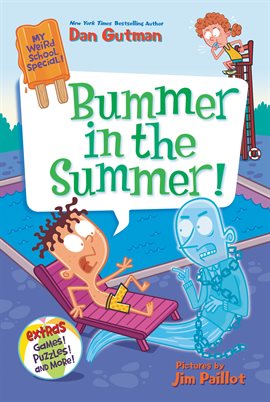 Bummer in the Summer! by Dan Gutman
School's almost out for the summer, and A.J. is dreaming about all the fun things he's going to do on vacation.
But A.J.'s dream quickly turns into a nightmare when three familiar spirits appear to show him summers past, present, and yet to come. Will they be able to convince him to leave his bad ways behind? Or will this summer end up being a total bummer? Available as an ebook on Hoopla.
Middle grade readers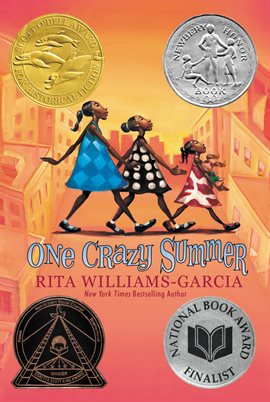 One Crazy Summer by Rita Williams-Garcia
Eleven-year-old Delphine is like a mother to her two younger sisters, Vonetta and Fern. She's had to be, ever since their mother, Cecile, left them seven years ago for a radical new life in California. But when the sisters arrive from Brooklyn to spend the summer with their mother, Cecile is nothing like they imagined.
While the girls hope to go to Disneyland and meet Tinker Bell, their mother sends them to a day camp run by the Black Panthers. Unexpectedly, Delphine, Vonetta, and Fern learn much about their family, their country, and themselves during one truly crazy summer. Available on Hoopla through the public libraries.
Upper grade readers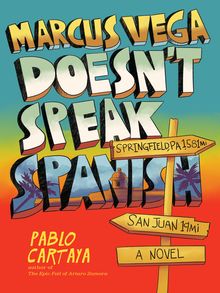 Marcus Vega Doesn't Speak Spanish by Pablo Cartaya
After a fight at school leaves Marcus facing suspension, Marcus's mom decides it's time for a change of environment. She takes Marcus and his younger brother to Puerto Rico to spend a week with relatives they don't remember or have never met. But Marcus can't focus knowing that his father—who walked out of their lives ten years ago—is somewhere on the island.
So begins Marcus's incredible journey, a series of misadventures that take him all over Puerto Rico in search of his elusive namesake. Marcus doesn't know if he'll ever find his father, but what he ultimately discovers changes his life. And he even learns a bit of Spanish along the way. Available on OverDrive as an ebook and audiobook.
What's going on at the public library this summer?
Follow this link
to see a video describing the Brookline Library's plan for summer activities!