Welcome back to Lawrence! I hope you had a great summer!
I started the summer by attending the American Library Association conference in New Orleans thanks to a generous grant from the Brookline Education Foundation. Four Brookline librarians attended the conference and we had a great experience!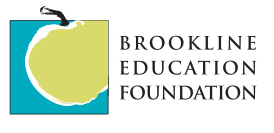 We met many authors and illustrators including Jason Reynolds, Sophie Blackall, Angie Thomas, and many more! The conference sessions gave us the opportunity to learn about books that will be published in the future, to learn about what inspired the authors to write, and to think deeply about the diversity of our collections. We met with leaders in our profession and had opportunities to think and talk together about our practice. What a great way to start the summer!
I also did a lot of reading this summer, too! Some of my favorite titles for middle grade students include Aru Shah and the End of Time by Roshani Chokshi, The Orphan Band of Springdale by Anne Nesbet, and Sputnik's Guide to Life on Earth by Frank Cotrell Boyce.
Picture books that I enjoyed include: Hello Lighthouse by Sophie Blackall and The Day You Begin by Jacqueline Woodson.
For our middle school students I would recommend The Cruel Prince by Holly Black, Ghost Boys by Jewell Parker Rhodes, and Fadeaway by Maura Ellen Stokes.